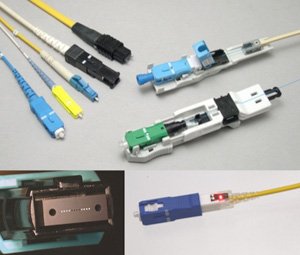 Optical Connectors
Our products
Single-fiber connectors
These connectors are used to connect single optical fibers. Conventionally, SC connectors were most commonly used. Recently, LC connectors have been increasingly used in many network devices.
---
On-site assembly type connectors
In general, optical connectors are installed at exclusively designated processing plants. On-site assembly type connectors enable the installation of optical connectors to optical fiber cables on site (e.g. terminating FTTH cables, cabling in data centers).
---
Multifiber push-on connectors (MPO connectors)
The size of an MPO connector is equivalent to that of an SC connector. MPO connectors are detachable, and can connect optical fibers of up to 24 fibers at a time. There has been growing demand for these connectors to achieve high-speed connection in data centers (e.g. 40GBASE-SR4).
---